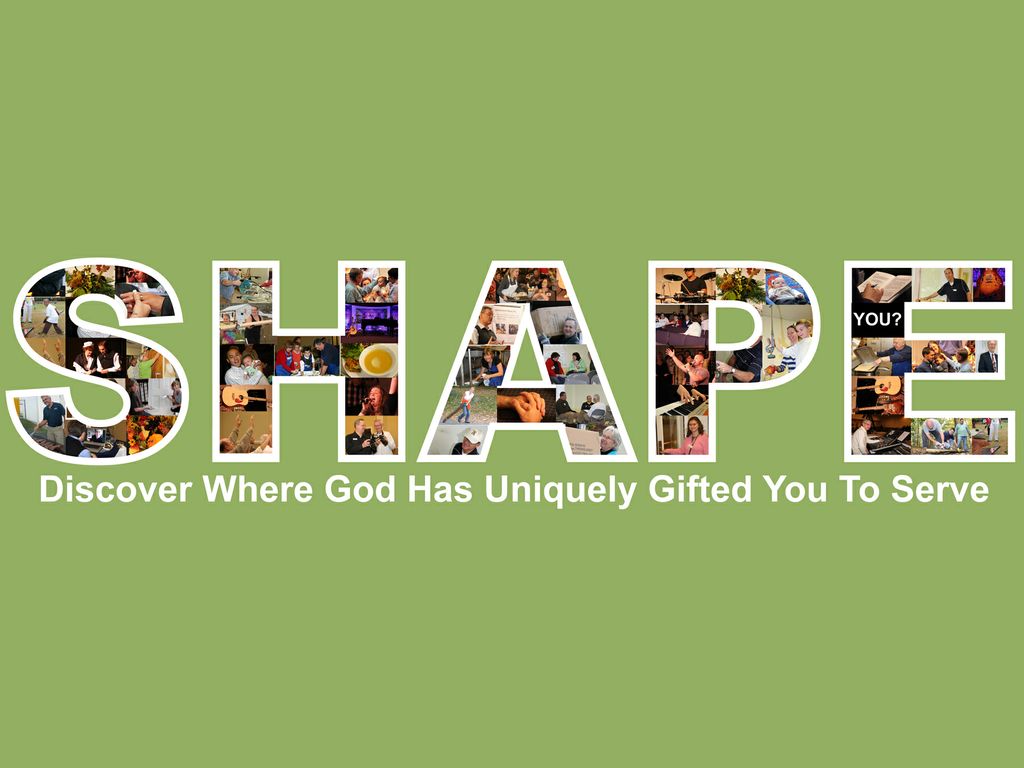 God has Shaped You to be a World Changer
You were designed by God to make a difference for God.
S – Spiritual Gifts, H – Heart, A – Abilities, P – Personality,  – Experiences
Your Shape reveals God purpose for you – Jer 1:5 "Before I formed you in the womb I knew you; Before you were born I sanctified you;
I ordained you a prophet to the nations."
It equips you to serve Him
Is 49:5 "And now the Lord says, Who formed Me from the womb to be His Servant,
To bring Jacob back to Him, So that Israel is gathered to Him (For I shall be glorious in the eyes of the Lord, And My God shall be My strength),
Life is a
Ps 33:14-15 From the place of His dwelling He looks On all the inhabitants of the earth; 15 He fashions their hearts individually; He considers all their works.
It shows God Glory
Is 43:7 Everyone who is called by My name, Whom I have created for My glory;
I have formed him, yes, I have made him."
Is 43:21 This people I have formed for Myself; They shall declare My praise.
Ex 4:11 o the Lord said to him, "Who has made man's mouth? Or who makes the mute, the deaf, the seeing, or the blind? Have not I, the Lord?
First you have to accept that God know best
Romans 9:20 But indeed, O man, who are you to reply against God? Will the thing formed say to him who formed it, "Why have you made me like this?"
 I receive God's Love
PS 119:41 Let Your mercies come also to me, O Lord, Your salvation according to Your word.
2. Refocus on what is inside you.